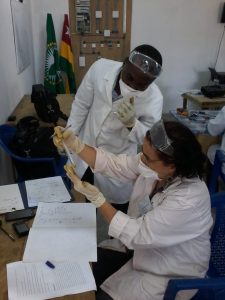 From July 31st to August 9th, OPEM has organized eight days internship for STEM teachers at OPEM headquarters at Lomé (Togo). Mathematics, Physics, Chemistry and Life sciences teachers from different schools of Togo have attended this practice training. The internship was organized by module.
Module 1: during three days; OPEM trainers have guided STEM teachers to realize 16 lab and reports. Teachers have realized that they can really help kids for better understanding when doing lab.
Module 2: We have to review science teaching in Africa. The pedagogy and the methodology of science teaching are fundamental for the development of the continent. There is no development without technology and there is no technology without quality science teaching. The only way to help youth to become ingenious and creators is practice science teaching since primary school. Theoretical science teaching gives superficial knowledge that can't help to develop.
Module 3: ICT enhance science teaching in Africa. The new generations of learners are computer and ICT kids. We out to change our teaching method accordingly. Lest us bring our lessons on smart phone, table, USB sticks, on line, etc. We can also use simulation applications, calculation and drawing software to enhance science teaching. Science understanding is fundamental for implementation of the knowledge. We have to bring the lesson on the screen and not always on the board. Social media are the best support where the new generation spends their time; that must also be the place of our lessons.
Module 4: Science teacher has to create his own equipments to integrate lab in everyday teaching. OPEM trainers have conducted STEM teachers to create four different lab equipments during a day. Water electrolysis, electrolysis of copper sulfate II, creating of socket and electrical circuit, electrical board for Ohm's Law. Teachers were very happy to create their own equipments on which they can do experimentations in their classrooms.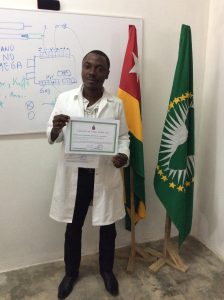 Science teacher training is essential for African development. This first edition of OPEM SSTT 2017 was a great success. Teachers were very happy to move to practice and ICT science teaching. The next edition is scheduled from July 30th to August 6th 2018 at OPEM headquarter at Lomé (Togo). STEM teachers from all African countries are expected. For reservation or additional information, contact OPEM at contact@africadeveloppement.org
or 0032 483 024 032 / 00228 93 49 31 49 / 00228 96 53 54 99
By Victor José AFANOU
CEO OPEM
[R-slider id= »6″]
[R-slider id= »7″]