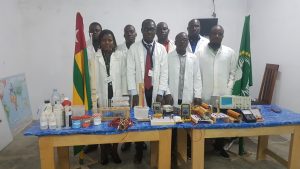 From September 27th to August 3rd has taken place at OPEM head quarters at Lomé -Togo, the second edition of OPEM SSTT, the practice panafrican STEM teacher training. Teachers from different schools attended this special training which is divided by 6 modules.
Module1: the practice of Lab to improve sciences understanding for students. 2 days to realize 12 sciences manipulation and make reports for each lab. Teachers in workshop groups follow OPEM procedures for practice Lab in Physics, Chemistry and Life Sciences according to GSS and SSS (College and Lycée) program
Module 2: Pedagogy and Methodology of Sciences teaching in 21st century. How to make Sciences lesson attractive, dynamic and practice for numerical pupils? How to create sciences culture and innovation spirit through modern Sciences teaching?
Module 3: The use of ICT to enhance Science teaching. Simulation program, Virtual Lab, Computing, Technical drawing to enhance the competences, easy understanding and implementation of Sciences are the main topics of this module.
Module 4: How to create Lab equipments. Teachers are trained to create Lab equipments themselves.
Module 5: Computer skills to perform modern teaching in Africa. Microsoft Office tools easy for teachers.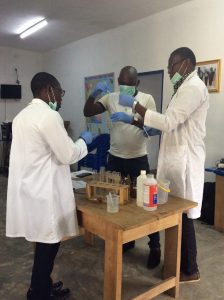 Module 6: Implementation of Sciences and Technology. Coding and automation – Arduino : the technical device that makes technology easy for all.
The 3rd edition, OPEM SSTT2019 is scheduled at OPEM HQ at Lome Togo from July 15th to 24th. All STEM teachers of the Continent are welcome to this special event.
More information: contact@africadeveloppement.org
Whatsapp : 0032 488 34 08 01
Tel: 00228 93 49 31 49 of 0032 483 024 032
Dr. AFANOU Kodjovi Victor José
[R-slider id= »12″]